🇬🇧  I am pleased to present my "Gallery Suyère" page with some of my available artwork from prior years; please take note that the framed appearance is for presentation purposes only, they are all canvas on stretcher except as may be indicated "marouflé" on wood.Should you have an interest in a particular work we can send you higher definition photos. You can expand to visualize each painting by double click, use the "previous page" function of your browser to return to the page.
As many of my collectors know the nature and expression of my work is a constant turmoil, yes I mess about a lot in quest of new expressions, techniques and of course inspirations.
Sometimes these emerge from the past such as "Chorus" and "Four Girls" here below, then again often in thematic series such as "Moi-je, …", or Battles of Human History", or again "Carnet de Voyage". My current gallery portfolio presents these and more.
🇫🇷 J'ai plaisir à vous présenter ma page "Galerie Suyère" avec certains de mes oeuvres disponibles issus des années passées. Ce portfolio sera mis à jour régulièrement mais je vous prie de prendre note que l'apparence d'encadrement est pour présentation seulement, les oeuvres sont sur toile tendu sur baguettes sauf celles indiquées marouflée sur bois
Si une ou plusieurs oeuvres vous intéressent je peux vous envoyer des photos en haute définition. Vous pouvez visualiser en pleine page avec un double clique sur le visuel, pour revenir à la page utilisez la fonction "page précédente" de votre navigateur.
Comme beaucoup de mes collectionneurs savent, la nature et l'expression de mon travail était en changement perpétuel à la recherche de nouvelles expressions, techniques et bien sûr inspirations. Parfois je puise dans le passé comme "Chorus" et "Four Girls" ci-dessous, ou autour d'un thème comme mes séries "Moi-je …", ou mes "Batailles de l'Histoire Humaine" ou encore mon "Carnet de Voyage". Le portfolio présent regroupe ceux-ci et d'autres.
🇬🇧 Sometimes without design I start directly by putting paint on the white canvas using a pallet knife and turpentine. The result is an abstract from which images appear and a story emerges.
This time, the four boarding school girls immediately looked up at me – saying defiantly – as we once would " we though it was allowed". The answer from the nuns used to be "you don't have to think, WE think for you".   I have never forgotten that phrase.
🇫🇷 Parfois sans objectif précis je commence par une application de peinture au couteau et térébenthine sur une toile blanche. En résulte une abstraction qui m'évoque des images puis la construction d'une histoire.
C'est le cas de "Four Girls" ou quatre collégiennes qui lèvent les yeux pour dire avec défiance "nous pensions que cela était permis".  La réponse des soeurs était invariablement "vous n'avez pas besoin de penser, NOUS pensons pour vous". Je n'oublierais jamais cette phrase.
🇬🇧 At other times outside events such as the popular uprising in Tunisia inspired my expression here below in the "Le Printemps de Tunis".
Neither of these paintings ever left my wall, they like others were outside that year' theme or more often just not ready or not the fit for that year's exhibition.
🇫🇷 Parfois mon inspiration s'appuie sur l'évènementiel tel le soulèvement populaire en Tunisie qui inspira le tableau "Le Printemps de Tunis".
Aucun des ces trois tableaux ont quitté mes murs, ils étaient comme d'autres soit en dehors de ma thématique, soit le plus souvent pas prêts ou en symbiose avec l'exposition de cette année là.
🇬🇧 Then among my "available paintings / oeuvres disponible" there are my orphans, those unspoken for in yearly exhibitions. Most often they end up on one of my walls or hidden behind my current work as it piles up. "La Salle de Bains" here below is one-such, though in the La Chapelle Saint Jean exhibition where I presented two works side by side of this Domestic Scenes period, the now owner of "La Chambre Rouge" in the center hesitated.
🇫🇷 Enfin il y a parmi mes "oeuvres disponible / available paintings" ceux que j'appèle mes orphelins, ceux qui n'ont pas fait l'objet du coup de foudre lors de l'exposition. Le plus souvent ils se trouvent reléguées dans l'oubli d'un mur obscur ou cachées derrière des créations récentes. "La Salle de Bains" est un bel exemple, cependant je l'ai présenté lors d'une exposition novice à La Chapelle Saint Jean à côté d'un autre tableau de la série "Scenes Domestiques" : "La Chambre Rouge", laissant le collectionneur de ce dernier hésitant. 
🇬🇧 Speaking of orphans, somehow it was strange to exclude Le Printemps de Tunis from my 2010 series "My Battles of Human History" – perhaps the contemporaneity then again there were so many, battles and expressions thereof, perhaps Tunis was my ray of hope.
They were prolific, powerful sometimes domineering. I was asked how : my answer
I have discovered through my usual empirical process a parallel between my relationship to the canvas and my new work on the Battles of Human History
When painting my battles I attack, Jab,
scratch and wipe out;
I attack whip slash and lash out;
I kill kill with knife, bayonet, slash it, shoot it, hack it
Fighting the battle on canvas…
Fire, fire, the canvas is the enemy and I fight it to the very end.

🇫🇷 Au propos d'orphelins et d'exclus je me demande parfois le pourquoi d'avoir exclu "Le Printemps de Tunis" de me "Batailles de l'Histoire Humaine" – peut-être la nature contemporaine, mais il y avait tant de batailles et des excès d'expressions de ces derniers, peut-être "Le Printemps de Tunis était le rayon de soleil.
Ils étaient prolifiques, puissants et parfois dominants. On me demanda comment : ma réponse
j'ai découvert un parallèle entre ma méthode de travail, c'est à dire ma relation avec le canevas et le thème que j'ai développé dans mes Batailles :
Quand je peins ces batailles j'attaque, poignarde, gratte et efface tout;
j'agresse, fouette et foule;
je tue avec couteau sinon baïonnette pourfendant,
projetant j'articule la bataille sur le canevas…
feu et puis feu, tire sur le canevas ennemi, je me bat jusqu'au bout.
🇬🇧 Of the initial series of ten  "The Battle of Baghdad" and the "Battle of Trafalgar" you will find below were noted in Miroir de l'Art number 19 issue along with "Nioulargue" (private collection) and "Golfe de Saint Tropez" (private collection).
🇫🇷 Parmi les dix tableaux de la série "La Bataille de Baghdad" et "La Bataille de Trafalgar" présentés ci-dessous ont étés repris dans l'édition 19 de Miroir de l'Art avec "Nioulargue" (collection privée) et "Golfe de Saint Tropez" (collection privée).
🇬🇧 Of my Battles of Human History A battle of Mameluke against Mogul on the backdrop of the hanging gardens of Baghdad. The Moguls a people whose livelihood centered around their horses.
🇫🇷 Mes Batailles de l'Histoire Humaine La bataille entre Mameluke et Mongol sur fond des Jardins Suspendus de Baghdad Les Mongols, un peuple dont la sustenance dépendait du cheval. 
but also Trafalgar / mais aussi Trafalgar à l'affiche :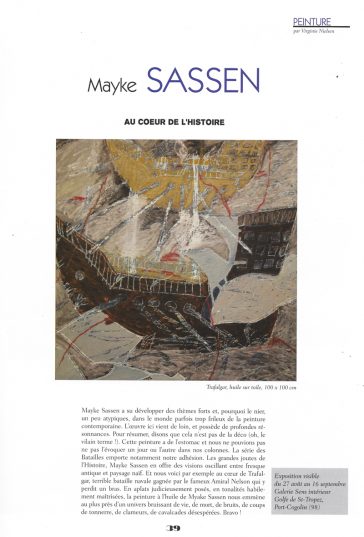 🇬🇧 Mayke Sassen has developed strong themes and, why deny it, a little atypical, in the sometimes chilly world of contemporary painting. The work here comes from far away, and has deep resonance. To summarize, let's say that this is not deco (oh, the ugly term!). This painting has stomach and we could not fail to mention it one day or another in our columns. The series of Battles includes our support. The great confrontations of history, Mayke Sassen offers visions oscillating between ancient fresco and naive landscape. And here we are, for example, in the heart of Trafalgar, a terrible naval battle won by the famous Admiral Nelson who lost an arm. In carefully placed flat tones, in skilfully mastered tonalities, the oil painting of Mayke Sassen takes us closer to a rustling world of life, death, noises, thunderclaps, clamor, desperate cavalcades. Well done !
🇬🇧 Of my Battles of Human History Sea battle of Nations immortalized at a cape whose name it would forever bear, 1805 The Battle of Trafalgar where destinies were determined by the audacious strategy of but one.
🇫🇷 Mes Batailles de l'Histoire Humaine Une bataille navale d'Etats-Nations immortalizée par le cap qui porte son nom, 1805 Bataille de Trafalgar où les destinées sont déterminées par la stratégie audacieuse d'un seul.
A third available painting of this series of ten is / une troisième oeuvre de cette série est disponible:
🇬🇧 Of my Battles of Human History Circa 1650 a Conventional Battlefield, flanks and logistics, reserves and wings, war will be war its human costs remains.
🇫🇷 Champ de Bataille Conventionnelle autour de 1650  Mes Batailles de l'Histoire Humaine Au milieu du 17ème siècle un champ de bataille déjà conventionnel, flancs et logistique, réserves et ailes, la guerre demeure tout comme son coût humain.
🇬🇧 I was honored when Miroir de l'Art included me in their list of 100 unavoidable contemporary artists :
🇫🇷 J'ai été honorée quant Miroir de l'Art m'inclus parmi son choix de 100 artistes contemporains incontournables :
🇬🇧 The painting presented here in Miroir de L'Art "Clueless" (private collection) was a precursor of one of my dominant themes. Coming from the Netherlands with a very different linguistic culture I am often taken aback with colloquialisms such as "Moi-je". "Moi-je" that "id" expression form the French language possess in a sort of innate, instinctive, often impulsive "me, I". For me that "id" was reminiscent when thinking back to candidate Holland's colloquial expression : "Moi President …", Moi-je… ever since I have toyed with the proximity of the selfie culture with which I drew parallels.
🇫🇷 Le tableau présenté ici dans Miroir de L'Art : "Clueless" (collection privée) était précurseur d'un thème dominant – le "moi-je", cette expression de la langue française qui peut surprendre celui né d'une autre langue maternelle me trotte dans l'esprit depuis l'élection présidentielle et pendant lequel le candidate Hollande répétait son credo "moi President". C'était in forme de Moi-je tout comme je perçois la culture du selfie avec lequel je dessine tant dans un sens littéral que figuratif des parallels.
Within this portfolio "available paintings / oeuvres disponible" available paintings from this theme are – les "oeuvres disponible / available paintings" dans ce portfolio de cette période sont :
Moi-je l'hermite
🇬🇧 2016/ 2017 was a difficult period, as I amply described in my presentation of 2019 work dark clouds were occupying my horizon finding their way into my expressions. Here are the available paintings from this period :
🇫🇷 Comme j'ai pu décrire dans ma présentation de 2019 a période 2016 et 2017 est empreinte de nuages noires révélé dans mes oeuvres. Ci-après je présente les oeuvres disponibles de cette période :
🇬🇧 The story in "Mathilda and Henri" lies in the graphics, Le temps perdu, se reposer 24/7 bye bye while the  clock sounds  phuk-it . I went berserk here, is that an understatement?
🇬🇧 Then there is my "Carnet de Voyage" period images and impressions I brought back from our incredible 2013 / 2014 road trip across the United States in an Airstream Land Yacht motorhome. If the "yacht" notion took us back to our blue water sailing days this time the waypoints were more constrained, beginning south of Tampa Florida across the southern states to Big Sur south of San Francisco.
Too many images needed to be transcribed, I started with a "chemin de fer" ,  a sort of fresque of sketches and colorful renderings before deploying impressions on canvas.
🇫🇷 Il y a ma période "Carnet de Voyage" emplis d'images et impressions ramenées de notre incroyable traversée des Etats Unis dans un camping car. Nous avions supplanté notre navigation en eaux profondes pour un vaisseau des sables avec des points de route plus contraignants, jalonnant le sud de Tampa en Floride jusqu'à Big Sur au sud de San Francisco.
Avec trop d'images à transcrire j'ai commencé par un "chemin de fer", une fresque de sketches et de couleurs avant de m'exprimer sur la toile.
🇬🇧 While Miroir de l'Art  in their article "Made in States" would claim that "La peinture autorise tous les voyages" (painting allows for all voyages).
🇫🇷 Au vue du résultat Miroir de l'Art publia "La peinture autorise tous les voyages" dans une article nommé "Made in States".
🇬🇧 I have several available paintings / oeuvres disponible from this period. Religion is everywhere, a plethora of churches of all denominations competing for attention, from addressing societal drama from the billboard to attracting new members to its flock with free movie showings and other caritative offerings, to the culturally iconic trailer-truck bearing the name of its proprietor below his statement : Mission Carriers.
🇫🇷J'ai plusieurs oeuvres disponible / available paintings de ce theme. La religion et partout avec pléthore de dénominations qui se concurrencent ; ici un panneau d'affichage qui address le drame societal, là l'offre de films gratuits ou autre offre caritative, jusqu'au camion affichant le nom de propriétaire indépendant et son crédo : porteur de mission et son église d'appartenance.
🇬🇧 Religion is so prevalent to every facet of the new world culture I could not help drawing the parallel of the Nigerian saying I encountered while living in Lagos "god is man man is god" I could not avoid the temptation of flying this flag.
🇫🇷 Face à cette prévalence de la religion dans tous les dimensions de ce nouveau monde je ne pouvait éviter le parallèle avec un dicton Nigérien trouvé alors que je vivais à Lagos "dieu est homme et homme est dieu", ainsi ce drapeau.
🇬🇧 We never reached our San Francisco destination-waypoint, though barely two hours further away, our progress was stalled by our "big love" discovery: Big Sur California.
As we headed north on Highway 1 the   range emerged, Mayke was becoming fidgety, evermore as her camera lens locked-in upon the Esalen Institute she had courted years before in her role teaching dramatic arts. We continued climbing the enamoring redwood-clad mountain range overlooking the Pacific. We both simultaneously fell in love with the beauty of these mountains as they plunge into the depths of the Pacific ocean; we knew we had reached our destination, wished we could drive a claim-stake.
🇫🇷 Nous ne sommes jamais arrivés à San Francisco, bien qu'environ deux heures plus loin notre progression a été stoppé par le grand amour, la découverte de Big Sur California.
Tandis que nous progressions au nord sur la Route 1 un massif montagneux majestueux a émergé devant nous. Mayke devenait fébrile autant plus quand sa caméra s'est figée sur l'entrée du Esalen Institute qu'elle avait courtisé des années auparavant dans son rôle d'enseignante en arts dramatiques. Nous avons continué notre ascension en corniche avec d'un côté le massif recouvert de séquoias  de l'autre une plongée quasi verticale dans les profondeurs du Pacifique dont nous sommes tombés instantanément amoureux. Dans le silence, ébahis, nous nous savions arrivés à destination – souhaitant comme le pionniers d'antan revendiquer un droit.
🇬🇧 The stake took the form of the letterboxes, one of which, third from the right Mayke labeled "Me"
🇫🇷 Le pieu d'un lot revendiqué s'est limité au tableau de boîtes à lettres, celles de quelques maisons enfoncés dans les collines, sur la troisième depuis la gauche Mayke a inscrit "Me" ou moi.
🇬🇧 "Lost your shirt? sell us your car" illustrates this new world in which everything is transactional, to include empathy. That said, even in the empty expanses of flyover country where the truck is king humor can prevail.
🇫🇷 Perdu votre chemise? vendez nous votre voiture – Un monde où tout est objet à transaction, même l'empathie. Mais dans ces régions désertiques du centre où les camions sont roi il reste un terrain d'humour.
🇬🇧 While the dark threatening clouds I mentioned above began to disperse I explored the abstract, experimented with new techniques, new mediums and materials from waxes and oil bars, to colors and forms until I found the bridge back to figurative expression. I destroyed most except a few that bridged the divide, among the available paintings from this period here below is my rendering of the Suyere torrent whose waters emerge from the mountain above our home before gushing by my studio.
🇫🇷 Tandis que les nuages noires que j'ai mentionné plus tôt commençait à se disperser j'ai exploré l'abstrait, j'ai expérimenté de nouvelles techniques, mediums, couleurs et matériaux, des cires, barres d'huile, couleurs, formes jusqu'au moment de trouver mon chemin de retour vers l'expression figurative. J'ai presque tout détruit excepté quelques uns qui éclairent le chemin entre ces deux expressions. Ainsi ci-dessous ma vision du torrent de la Suyère dont les eaux émergent de la montagne au dessus de notre maison avant de se déferler devant mon atelier.
🇬🇧 I am closing this portfolio of available paintings / oeuvres disponibles as I opened it, with an old never shown painting named "Private Rooms" from 2007. It too has a story that began with our settling in the Massif des Maures mountain range.
Moving is always traumatic and we had both had our share, but here we were camping of sort in old stones. Between the percussion drills, offensive sounding machines of all sorts, workers taking down partitions and the build-out of my future studio beginning in an adjacent building I desperately sought to isolate, protect myself. "Private Rooms" was my quest for some private space as I meander through a construct I could not yet apprehend.
🇫🇷 Je termine ce portfolio d'oeuvres disponibles / available paintings comme je l'ai ouvert avec un tableau plus ancien (2007) nommé "Private Rooms" pour la notion d'espaces privés. Il a une histoire comme beaucoup d'autre, celui-ci relate de notre installation dans le Massif des Maures. Les déménagements sont toujours traumatiques et tous deux nous avions un lourd vécu de ces expériences, mais cette fois nous campions dans de vielles pierres en mal de renouveau. Confrontée aux machines à percussions et autres engins offensifs, aux les ouvriers démolissant murs et partitions, mon futur atelier en confection dans un autre bâtiment, j'avais un besoin critique de m'isoler, de me protéger. "Private Rooms" était ma quête d'un espace privé dans les méandres d'une construction que je ne pouvais pas encore appréhender.